Highland Adventures
If you are a nature and peace lover and have a knack for adventurous sports "Palampur is the place for you ". We at "The Highland adventures" provide you with all the major adventurous activities of the region:
Trekking & Camping in the magnificent Dhauladhar ranges close to Palampur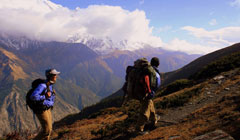 Trekking & Camping in the lap of the majestic Dhauladhar ranges close to Palampur is an ultimate adventure. The Valley offers everything from soft to medium to steep and from short 2-4 hrs to medium 4-6 hrs to a day long trek to longer treks for days for all age group and gender. Camping option available after a day trek in a natural surrounding with stunning views of the mountain and the valley.
Minimum two nights 3 days required to enjoy the trekking & Camping at Palampur.
Paragliding at Bir Billing, Himachal Pradesh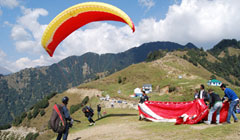 Bir Billing located in Himachal Pradesh is highest peak for Paragliding in India and is rated amongst the best site in the world for Paragliding. Paragliding tournaments are held every year in October where hundreds of cross country paragliders participate from around the world. Bir is the landing ground and also a Tibetan Colony with beautiful monasteries. Billing is about 14 kms from Bir, up in the mountain, accessible by road, the celebrated meadows from where you take off, at an altitude of 2400 mtrs.
Tandem Joyride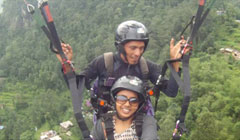 The tandem flights (1+1) are available with experienced pilots for each and everyone. It is certainly one of the most thrilling adventure which everyone should experience at least once in lifetime!! No age limit, training or experience is required to taste the exhilaration of free flight. You take off from Billing (2400 mtrs above sea level) and land at Bir. You will be up in the air for about 20 to 30 minutes and enjoy every second of it, and at the end you'll be left wanting for more…. The view of the mountain and the valley below can not be described in words and it will surely be with you till your last breath.the best time for paragliding in Bir is from March till June before the start of monsoon and from September to November.
Trekking, camping and Paragliding at Bir Billing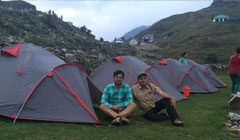 Highland adventures will make all the arrangements to enjoy all the three adventures at one go at Bir Billing. Minimum two nights three days required.
Trekking, Camping & fishing at Barot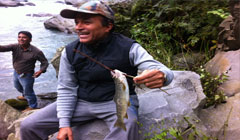 Barot is one of the most beautiful and less traveled destination. You can enjoy nature in totally peaceful environment. The Valley has everything – dark green forests of beautiful Deodar and Oak trees, Two snow fed rivers flowing parallel and joined at Barot to form a beautiful Reservoir made by Britishers way back in 1924 for the first hydel project of India at Jogindernagar.
It is an angelers delight to do trout fishing in these rivers.
Highland adventures will make all the arrangements to do all the above activities at Barot. Minimum three nights four days required.