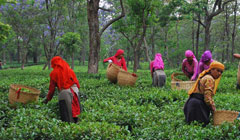 Tea Gardens
Palampur being the tea capital of North WEST India has one of the best Tea gardens in the country. The famous flavour rich Kangra tea is produced in a factory which is just a kilometer away from the hotel. One can enjoy the lovely walks through shaded, eternally trimmed, lush dark green tea gardens which are in plenty all around Palampur.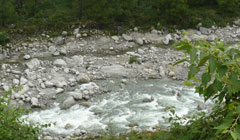 Neugal River
One of the major attraction of Palampur is a snow fed beautiful " Neugal river " which flows at one side of the town about 3kms from the hotel, is 300 mtrs wide. The specular Dhauladhar ranges also appears quite close from here. Its water is so clean that one tempt to drink it straight from the river. It is a natural, gifted picnic spot.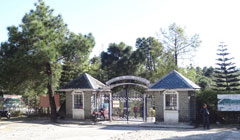 Saurabh Van Vihar
Along side Neugal river is a park known as " Saurabh van vihar " dedicated to first martyr of the Kargil war , Amar shaheed Capt. Saurabh Kalia is also a rare and natural picnic spot. There is a lake inside where you can enjoy boating (especially children) and relax along with your family and friends.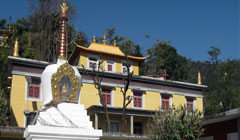 Tashijong Monastery
Moving further ahead about 12 kms from Palampur en-route Baijnath is a Tibetan monastery and colony called " Tashijong monastery " populated by Tibetan refugees and monks. One can also get Tibetan handi-crafts, Tibetan carpets and Thanka paintings here.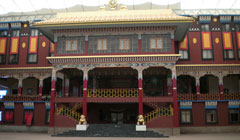 Sherab Ling Monastery
15 kms farther (road diverts after passing Baijnath) is a " Sherab ling Monastery " – originally located in Kham, Eastern Tibet, The Sherab ling monastery has been rebuild at a place called Bhattu near Bir. Inside the monastery there is a magnificent 42 ft high golden statue of the Maitreya Buddha surrounded by 10,000 9" high golden Buddhas. It provides a complete range of facilities for monks to study and practice.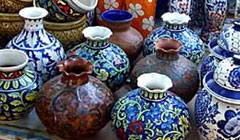 Art Gallery at Andretta
15 kms from Palampur is an art gallery (for art lovers) displaying the original paintings of the renowned painter " Sant Sobha singh ". There is also a pottery and crafts centre at Andretta.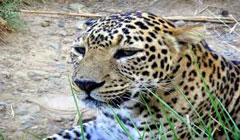 Dhauladhar national Park (Gopalpur Zoo)
Also known as Gopalpur Zoo, is 12 kms from Palampur enroute Chamunda Devi temple and Dharamshala which draws attention of wildlife enthusiasts, set amidst a pine forest. The major attraction of the Zoo are: Asiatic lion, Leopard, Himalayan black bear, hog deer, musk deer, barking deer, red fox, angora rabbits, wild pigs, mongooses, Indian crested porcupine, peacocks, vultures, eagles, Himalayan monal, cobra and paythons, etc.