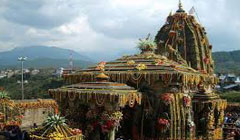 The Baijnath shiv temple
15 kms from Palampur, this ancient temple of Lord Shiva – revered as vaidyanath is a classical example of Indian ancient architecture, built at the banks of Binwa river in 804 AD. The Linga enshrined in its sanctum is one of the 12 jyothrlingas in the country. King Ravna is believed to have prayed to Lord Shiva for the boon of immoratality at this place, is a major draw of pilgrims and visitors all year round.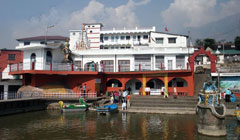 The Chamunda Devi mandir
18 kms from Palampur dates back to the story of the goddess Ambika who was harassed by two demons, Chanda and Munda. Enraged, Ambika knit her brows and from their folds emerged a terrifying form of the Goddess Kali who slew the demons. Pleased, Ambika declared that Kali would now be worshiped here as 'Chamunda' and she is said to have the power to grant boons. The murmuring music of the Baner river mingling with that of the ringing of bells and chanting of mantras provide a unique experience.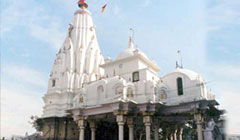 The Brajeshwari Devi Mandir
In Kangra is about 35 kms from Palampur, The ancient city of Kangra is famous for its temple of Brajeswari Devi, is one of the shaktipeeth where the breasts of goddess Sati is believed to have fallen. The temple was of such legendary wealth that it was plundered by successive invaders – Mahmud Ghazni, Firoz tuglak, Timur the Lame etc. Held in high esteem by worshipers of "Shakti" the supreme power of God, It draws pilgrims from all parts of India and abroad.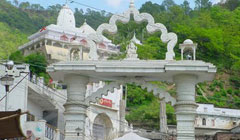 The Jwalaji
70 kms from Palampur is an important pilgrimage of Kangra valley centered around a temple built over a rock through the cracks of which a sacred flame emnates, known as 'Jwalaji', the temple is a prominent Shakti peeth of the country.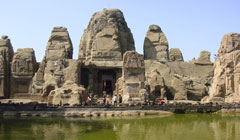 Masroor temple
65 kms away is this monolithic temple, similar to the temple of Ellora. This is the only shrine carved out of Live rock in North India. Images of lord Rama, Laxman and Sita are installed here.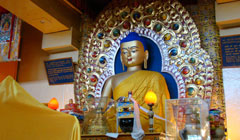 Dharamshala and Mcleodganj
35 kms from Palampur , Dharamshala is a district headquarter of Kangra district . Another 15 kms from Dharamshala is Mcleodganj where the world renowned spiritual leader of Tibet His holiness The Dalai Lama lives with his followers. The place is known as "The little Lahasa in India". There is large Tibetan community who have made this place their home. The impressive monastery has larger than life images of the Buddha, Padma sambhava and Avaloktwshwara. Tibeta handicrafts and garments are sold in the tibetan market.
Places worth visiting are: The Namgyal Monastery, The Dalai Lama Temple complex, Dal lake, Bhagsu Nag temple and bhagsunag falls, Norbulingka institute, Chinmaya Tapovan ashram to name a few.