Why Palampur?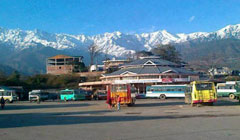 If you are a nature lover, Palampur is undoubtedly  "  The Place "  for you . Surrounded by the magnificent Dhauladhar mountain range, this quite hill station in Kangra Valley is known for its Colonial elegance, beautiful landscapes, salubrious air, beautiful tea Gardens and lots of exciting adventure sports.
Adventure activities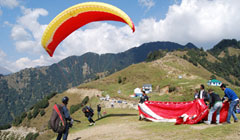 Palampur has a lot in store for the  "adventurous you", mainly Trekking and Camping close to Palampur in the magnificent Dhauladhar ranges. The valley offers a wide range of trekking options from soft to medium to steep and from short to medium to long treks in the most natural surroundings.
Trekking, Camping and paragliding at Bir Billing, Himachal Pradesh
about 35 kms from Palampur which is declared as one of the best sight for paragliding in the world.
Trekking, camping and fishing at Barot
(one of the most beautiful and less traveled destination abt 80 kms from Palampur).
Our new venture " Highland Adventures" organizes all the three activities i.e. trekking, camping and paragliding to suit an individual or a group of all age and gender as per their requirement and suitability at the above mentioned locations.